Weddings
We love creating unique, special flowers for all our couples, from buttonholes and bridal bouquets to pedestal arrangements and church garlands.
We are totally flexible, and can take care of everything, or just supply the bouquets and buttonholes and a few buckets of DIY flowers for you to arrange.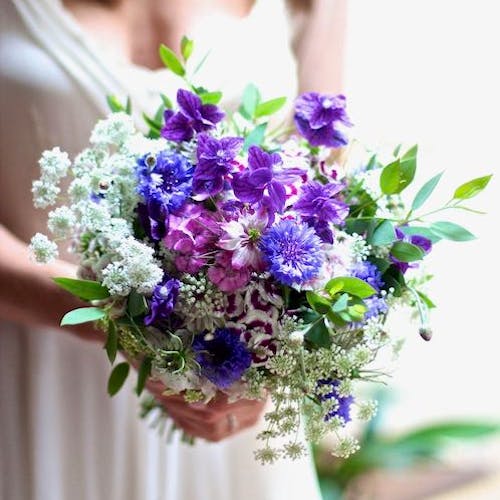 We have a wonderful abundance of seasonal flowers in our cutting field and we believe that blooms flown from thousands of miles away just don't compare in terms of beauty, fragrance and freshness.
Our aesthetic is very much informal, unstructured, and garden-inspired and the arrangements will contain the best of whatever is in season at the time of your celebration.
We love to include scented flowers and herbs to add that extra dimension so lacking in many commercially-grown flowers. By using whatever is in season and blooming at that particular moment in time, every wedding is unique. We like our flowers to look spontaneous and "gathered", and preferably not too stiff or uniform!
If you would like further details of our wedding service, please contact us for our current prices and a list of all the flowers that will be in season at the time of your wedding. We would then set up a meeting to go through ideas after which we supply a full written quote. If you decide to go ahead, we would then take a small deposit to confirm the booking.
As the wedding day approaches, we always offer our couples an invitation to come and take a wander around our flower field (usually a week or so before) to select favourite blooms and see which flowers are at their peak. We have been told on many an occasion that this is the loveliest part of the process so is definitely worth doing if time allows!
We cover East and West Sussex, Kent, Surrey and London and the season runs from April to October.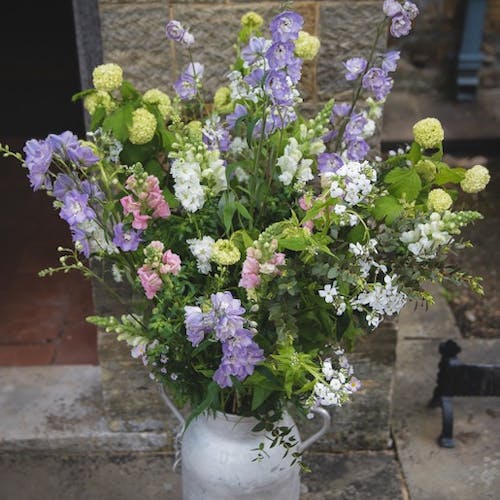 Previous Weddings